Ever look at the home features in magazines and say to yourself, "man, maybe someday I can get my house in order like that"? Well of course you have! That's the point of magazines. They want you to look at these pristine homes and believe that yours doesn't compare. But you could buy these branded products or hire these interior designers we recommend!
But what if magazines showed real life? Let's imagine.
1980s Colonial Mixes Vintage Finds with Traditional Styling to Create Family Oasis
The Feature family bought their 1980s colonial style home in 2012. When they first moved in it was a blank shell.
"We were drawn to the built-in shutters," Feature Mom said. "Can we call them 'Plantation Shutters' anymore? Seems a bit inappropriate. Whatever they are called now, we knew they were big money."
Feature family also loved the larger, relatively flat lot and mature trees with a short commute for Feature Dad to get to uptown each day.
Once they moved in they went to work. They didn't have cash to buy new furniture, but they could afford a few gallons of paint.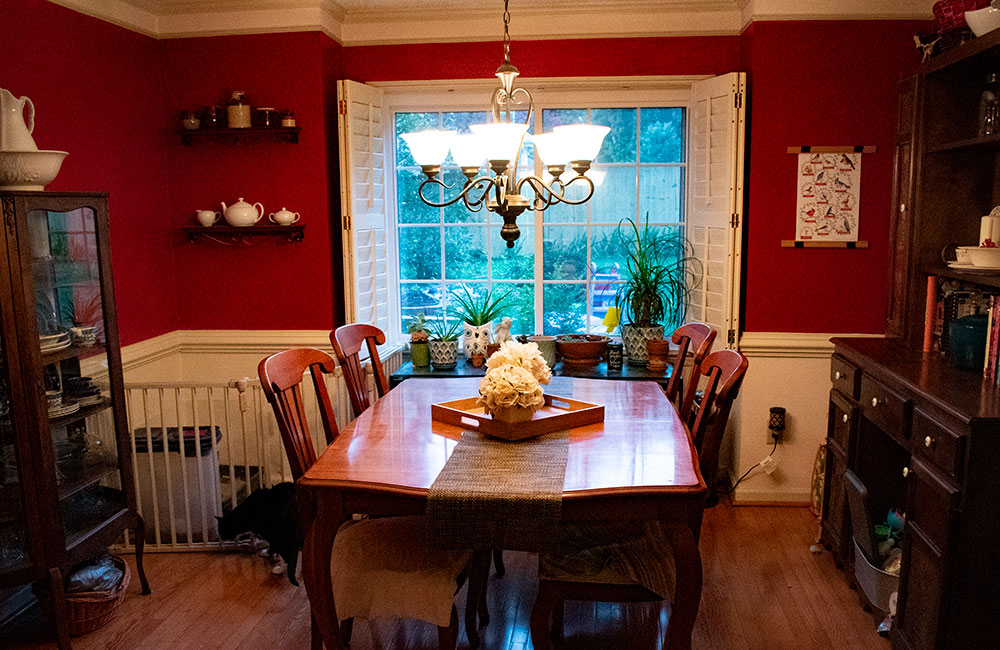 "Our dining room is a true museum to our families," Feature Mom said. "We inherited a china cabinet and handmade hutch from my grandparents, and the dining table itself came from his uncle."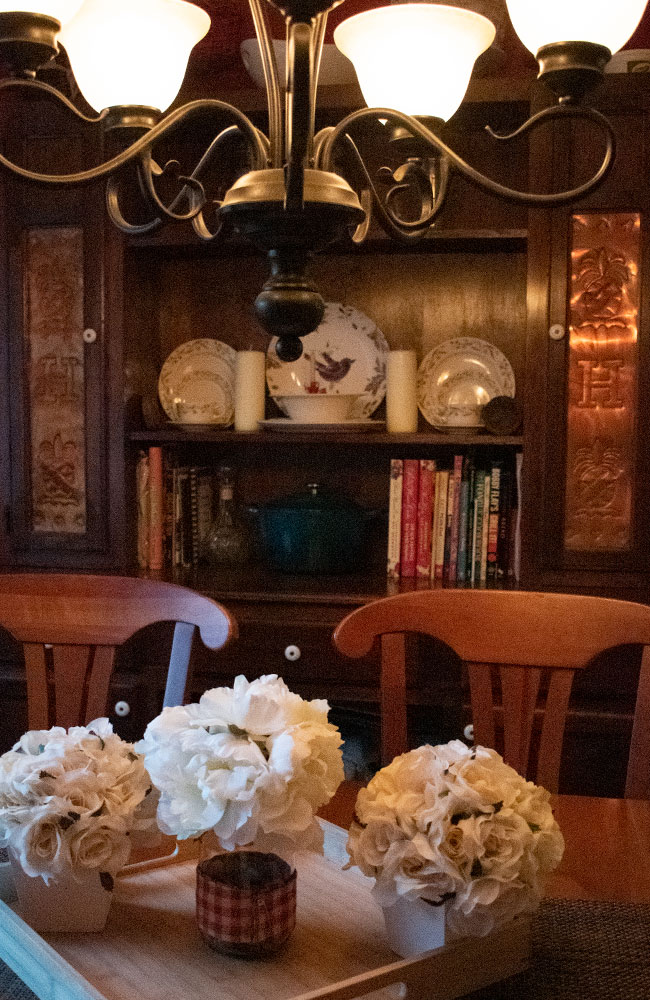 "We also repurposed an old baby gate to keep the dog from cat box snacking. You probably don't want to include that, right?"
Feature Mom has fond memories of the family hutch from her childhood. It was once a misty brown and she refinished it to a deeper red oak. She also restored the hand-punched copper inserts.
"You just can't find pieces like this," she said. "I'm really fortunate that I have so many makers in my family and I got my hands on things like this. I think it gives the room a lot of character."
She also inherited her grandparents' china, a vintage set of Homer McLaughlin from the 1950s. The midcentury floral rim features gray and red florals, which play off the Coca-Cola red walls. Even the light fixture is a hand-me-down. When Feature Dad's brother moved into a new construction in Fort Mill, his wife replaced all the existing light fixtures. The dining room fixture made its way to the Feature home.
"If I had to do it over again, I wouldn't paint any room red. It took no less than 5 coats and I still see patches I want to touch up," Feature Mom said. "I'm glad the room works as it is because I don't think I'll ever paint it another color!"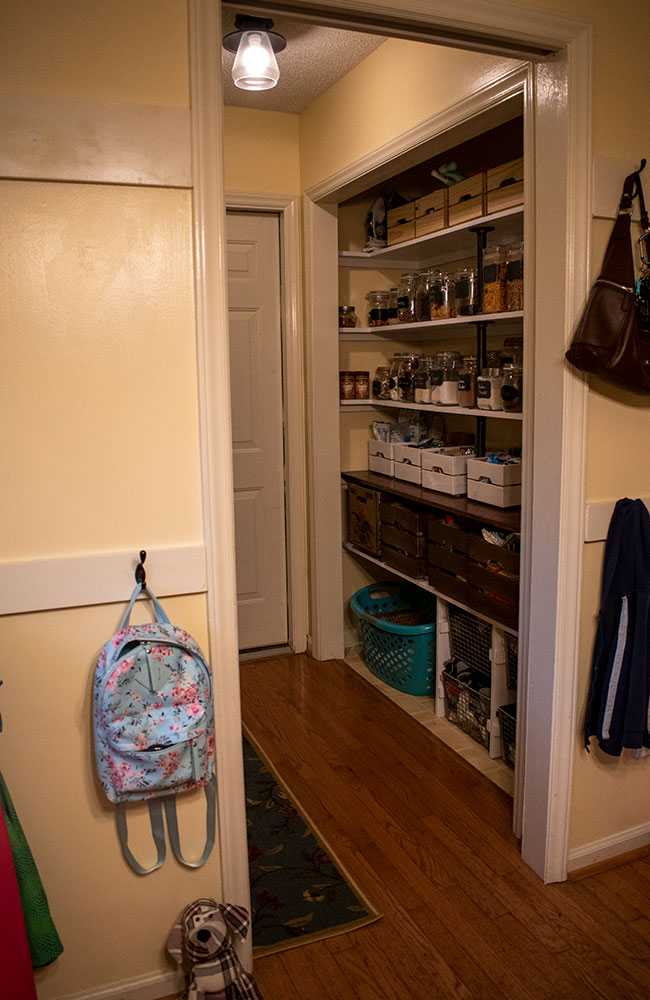 High Traffic Area Gets Reimagined
The Feature parents use their garage as their main entry into the home, so with a garage access area that also holds the family's laundry and pantry they knew the area needed to be functional.
A pocket door can close off the area so the washer and dryer don't disrupt dinner or TV viewing, but that also meant that there were no studs to support storage hooks. Feature Mom solved that problem by attaching horizontal boards to the two studs that were available, allowing Feature kids a place to hang their coats and bags.
The pantry itself was converted from wire shelving to custom wood built-in shelves. Feature Mom spent years collecting IKEA crates and containers, which kept the renovation costs low when it came time to revamp the shelves.
"We didn't have a mudroom, and the hallway leading to our garage wasn't an option for it. We instead put all our shoes and a chair in the garage just outside the door. Everyone's socks are in metal pull-out bins in the pantry so they can go straight from the wash to their bins to feet," Feature Mom said.
"Do you really want to put a part about socks in our feature?"
The Feature kids most like the easy access to pre-packaged snacks. It also helps to take inventory when pantry staples run low.
"I eat Little Bites muffins every morning for breakfast," Feature son said. "When we run out I get really sad."
"I like what my wife did with the pantry because I have a hard time waking up in the morning," Feature dad said. "When I'm running late getting to work, it is nice to be able to easily grab a protein bar as I go to the car."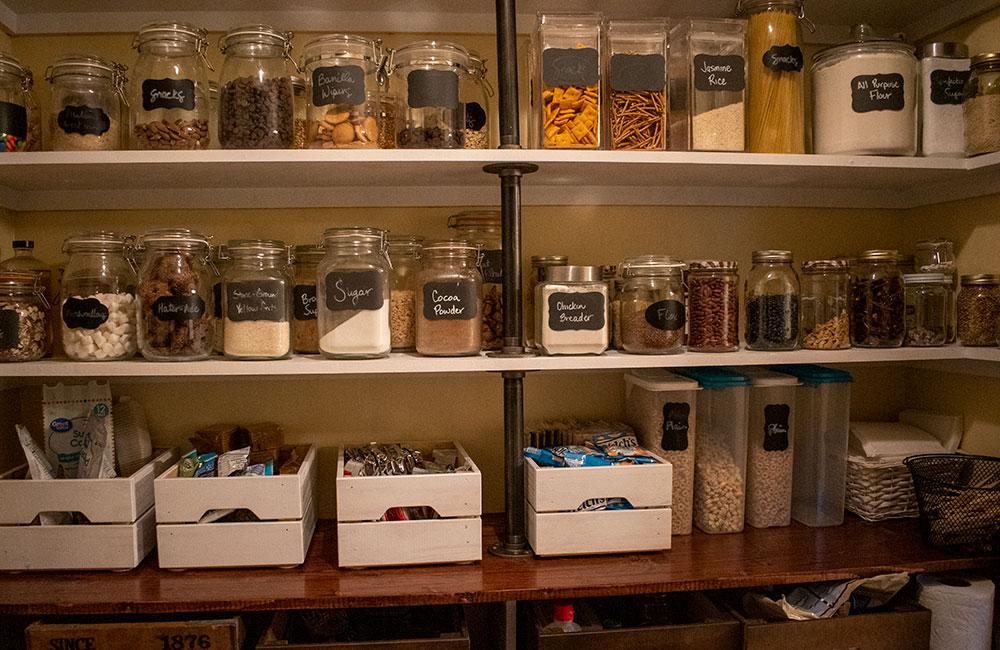 There are quite a few home projects the Feature family want to do, but they know owning a home means you're never done spending money on it.
"I wish my wife would stop trying to change things," Feature dad admitted. "But I do like the colors and the setup, so I don't complain."
"Every once in a while I just get in a mood. I start purging unused stuff and trying to make things more efficient," Feature mom said. "We spend a lot of time at home and it is nice to be able to make our home work better for us."